I. Introduction

With the improvement of domestic consumption levels, the pace of life of urban and rural residents is accelerating, travel and tourism are increasing, and concepts and methods of food consumption are quietly changing. Many families try to liberate themselves from the kitchen, reduce fume pollution, reduce household work, and soft canned food. Its characteristics of light weight, convenience, long shelf life, hygiene, easy storage, and easy dismantling have been adapted to people's daily needs and are increasingly welcomed by people. According to experts of the China Food Industry Association, convenience, engineering, functionalization, specialization, and international standardized foods will be the major trends in the development of the food industry in the 21st century. Convenience is mainly the production of instant noodles, rice, porridge, bread, etc., as well as the convenience of cooked food products such as meat, poultry, aquatic products, eggs, and vegetables. Many of them prepare semi-cooked/cooked foods in composite film packaging bags, vacuum or nitrogen-filled, sealed and sterilized at high temperature for 20 to 70 minutes, without additives, to maximize the color, fragrance and taste of foods. Nutritional value, favored by consumers. It is reported that at present, the production of cooked meat and poultry meat products in China is only over 3 million tons, accounting for 6% of the total meat production, which is far from the 50% level of cooked meat products in developed countries. If you can catch up, not only can the meat products add value significantly, but the flexible packaging that they use will also be greatly developed. Experts predict that bagged meat products in China will grow at a rate of 20%/year in the next few years. It can be seen that the market for cooking compound bags is promising.
Cooking bags can be classified into temperature classes:
(1) Resistant to boiling water at 100°C;
(2) resistance to 121 °C retort sterilization (stirred at 121 °C 40min);
(3) Resistant to 135°C high temperature retort sterilization (sterilization at 135°C for 20-30 min).
The latter is aseptically packaged. Since the packaged food is completely free of bacteria and no air exists, the purpose of long-term preservation of food under non-refrigerated conditions can be achieved. When it is eaten, it can be eaten cold, hot, and convenient to use, saving the energy when it is stored.
In addition to the performance of the general-purpose bag, the high-temperature cooking bag has the most important properties of high-temperature sterilization, high barrier to water vapor and oxygen, because the high-temperature cooking bag is mainly used to hold meat products, and meat In the case of moisture-air products, the bacteria multiply rapidly and the spoilage occurs. For this purpose, the package must have good heat-sealing properties.
Second, high temperature cooking bag standard
The heat-resistant cooking bag standard includes the packaging industry standard BB/T003-94 "High-temperature cooking film and bag" and the national standard GB/T10004-1998 "Retortable cooking compound film and bag". The application scope of these two standards is completely consistent; technical requirements Basically the same, the difference lies in the international elimination of oil resistance, increased peeling strength after cooking, heat sealing strength and other project indicators (basic requirements after cooking performance retention of more than 80%); in the peeling force index before cooking, individual indicators are different For example, PET/Al, the national standard is greater than 3.5N/15mm, the line is marked as 4.0N/15mm, for PET/CPP, the international regulation is greater than 5.0N/15mm, the line is marked as 4.0N/15mm (see Table 1 for details) . Both standards are recommended standards. From the perspective of standard levels and timeliness, the author suggests adopting national standards. The cooking conditions used for both standards were 121°C and 40 minutes.
Third, the domestic temperature cooking adhesive status
Polyurethane adhesives are widely used in dry compounding, but ordinary polyurethane adhesives have fatal weaknesses that are poor in resistance to moisture and heat. They can be easily decomposed under high temperature and vapor to reduce the adhesion. This degradation rate is accelerated at the interface with metals, so Without special molecular design and modification, it cannot be used as a cooking bag compound adhesive. Due to high technical difficulty and great market demand, the use of high temperature resistant (135°C) cooking gels and one-component moisture-curing polyurethane adhesives for fast curing automotive windshields has become a research topic in the polyurethane adhesive industry that needs urgent localization. Since the 1990s, research institutes such as universities and research institutes in Liaoning, Jiangsu, Zhejiang, and Henan provinces have initiated research projects. Some adhesive production units in China have also promoted cooking resistant plastics to the market, because the performance is not enough, making the flexible packaging production units talk about changes in color, and they are far away from home. In the fierce market competition in flexible packaging, they still import high cost and valuable foreign exchange resistant cooking adhesives. The rapid development of cooking bags. The domestic soft packaging industry now mainly uses imported AD502(S), 585K, EPS901, A3100 and other varieties.
Determined by "professional, high-tech, and Chinese-made" Gaomeng scientific and technical personnel, after years of painstaking research, has finally completed the localization of high-temperature cooking glue this project, in a suspicious, after the unremitting efforts of the high ally, the Chinese themselves The cooking plastic brand - YH502 resistant to 135 °C high temperature cooking adhesive finally get everyone's trust, since the product was launched in 1999, has completed more than 700 tons of promotion, brought great benefits for direct users, but also to break the import monopoly to reduce the import of plastic The price brings the rapid development of the cooking bag market.
Fourth, high temperature cooking bag adhesive properties
Some of the imported cooking adhesives have high initial tack, high peel strength, some short curing times, low viscosity, and high solids content. YH502 cooking plastic to ensure that the main strength of the composite, but also consider a certain degree of operability, the physical properties of various cooking plastic see (Table 2), the performance of the composite membrane after application (Table 3).
Composite processing conditions: Adhesive: YH502:YH10=100:10 (30% solids content)
Coating amount: 5.0 to 6.0 g/m2 (dry basis)
Conditioning: 40°C 72 hours Heat seal: 160°C 2Kg/cm2 Sterilization cooking conditions: 135°C 30 minutes
Content: 1:1:1 soup (Ketchup: oil: vinegar)
Measurement conditions: Sample width: 15mm
Peeling angle: T-type peeling speed: 300mm/min Measurement environment: 20°C 65% RH
Since YH502 was promoted in 1999, its application in the past 5 years has proved that YH502 can meet the requirements of 135 °C cooking resistance of food, and can replace imported similar products.

Author: Wang Ziping (Beijing high-League Chemical Co., Ltd.)

Product Name: high quality acrylic eyewear display
Acrylic Display Stand, Acrylic Display Boxes, Acrylic Display Cabinets, Acrylic Display Shelves

Commodity: Acrylic Display
Material:Acrylic, 4-tier acrylic shelf.
Size: customized
Color: transparent white,black red or any other colors else
LOGO Process: Can make on the design
Price term: EXW/ FOB Shanghai/Ningbo /CIF/CNF
Standard Packing: polybag packing
MOQ: 300pcs
Delivery time: 1. sample time: 5 days in general
2. products time: 20 days after samples confirmed
Payment: TT, Paypal, WestUnion, L/C, D/A, D/P
Product advantages
1. You can choose our model and add your design, we will make the bulk production for you.
2. We have stock items for small quantity buyer and sample buyer.
3. Packing : A set is packed to a standard exported carton, lined with hard foam padding inside, each component is wrapped with plastic bag for humid-proof and resistance of scratch on the surface.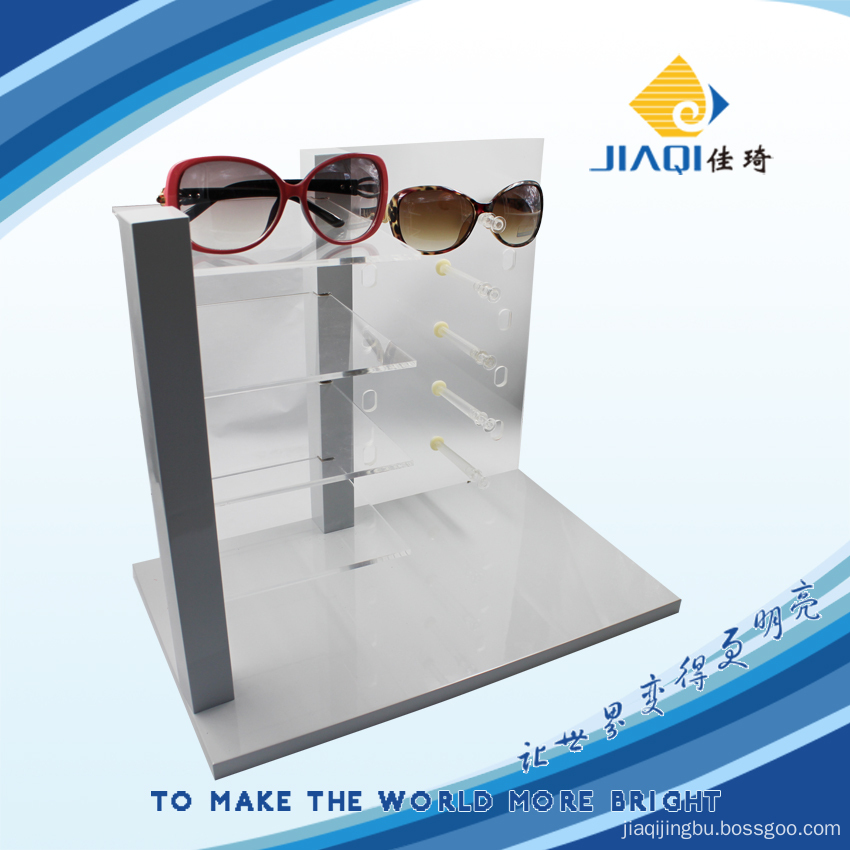 Glass Display
Acrylic Display Stand, Acrylic Display Boxes, Acrylic Display Cabinets, Acrylic Display Shelves
Jiangsu JayQi Microfiber Textile CO.,LTD , http://www.jayqitextile.com